Wristy is a small, lightweigh handy cellphone. It is probably the smallest and the lightest phone in the world, so it doesn't disturb your kid when playing outdoor. It's the best solution for demaged or lost phones.
Wristy allowes parents to be in touch with kids when they are outside home – your child will always take a call from you, because Wristy is carried on silicone band on wrist (available in white, black, blue and red). Kids can also attached phone by special clips to their clothes or hold it around neck on lanyard. Wristy vibrates when you call your child, so this is the end of muted cell phones.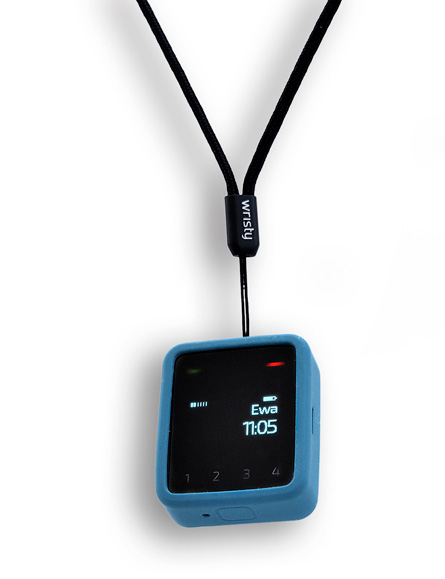 Handling with Wristy is very easy. Wristy has four preset numbers that user can dial. Kids just press one button to call parents. There is no limit for incoming numbers. There is also an option for quick dialing emergency number 112. You charge Wristy with micro USB.
Wristy is a great phone not only for kids, but also for active people, eg. during biking, playing tennis, horse riding – when there is no possibility to keep large phone in pocket.
Wristy is available on line – here.
It costs 95 Euro.
Wristy size: 42 mm x 34 mm x 11.5 mm
Wristy weight: 20 gram (29 gram including the case and the wristband)
Silicon wristband size: 23 cm x 2.4 cm