Choosing the right lighting, one of the most important elements of interior design. To make the right choice you should divide house / apartment to utility area and choose the right type of lighting.
There are 3 types of light sources:
– General – simply illuminating all room, giving diffused light. We get them through the ceiling mounted lamps: suspended luminaires (pendant and chandelier), surface mounted and receseed luminaires.
– Task – this kind of lighting is in addition to the general light and used to illuminate the specific points at home, e.g worktop, desk, reading area. Light must be bright, directional, when you want to light the working place or diffused, when you want to get special atmosphere. Here we use standing lamps, floor lamps, table lamps, desk lamps, spotlights.
– Decorative/accent – if you want to get proper mood and atmosphere, or expose a certain point or object in the house (art piece, furniture). For this purpose, we use  sconces.
General tips:  to create the right mood lighting mix types and always be sure to use suitable lighting for type of work. Keep different parts of a room at different brightness levels to prevent "lighting fatigue".
ENTRANCE, HALL LANDING
Must be well lighted. In small rooms, use  surface-mounted or recessed luminaires, you can use spots, aimed at different ceiling corners. In large halls, beautiful chandelier will look amazing. On console place table lamps.
LIVING ROOM
Use different types of lighting, for spacious rooms use three light sources (located in 3 corners), and one of those lamp direct to special object. Over the paintings hang downlight sconces. An oversized lamp is a perfect punctuation to a well composed room.
KITCHEN
Here the light must meet the technical function. There is no need to install ceiling mounted lighting in the middle of the kitchen.  Use multi-head spot lamps for lighting the countertop. Lighting the island will be the focal point of the kitchen. Use under-cabinets LED lighting.
DINING ROOM
To gather guests around the table, light source should be mounted directly above the table, use pendants on long ropes . If the table is large, use a few lamps – they can be in different sizes. Dimmer switches are a great solutions – they give warmth and atmosphere to the dining room interiors . At buffets and consoles, use decorative table lamps .
HOME OFFICE
Be sure to take care of good lighting. Designer lamp on the desk would be a great decorative point. Long rope pendant will not be a good solution for rooms with standard or low ceiling. It is better to use surface mounted luminaires. Floor lamp for reading is also nedeed. You can also use lamps set into a bookcase.
BEDROOM
The light should create a mood. Certainly will not work halogens, unless you use a small spots. Certainly do not forget about sconces (downlights, uplights or both sides) and standing lamp on the night table.
BATHROOM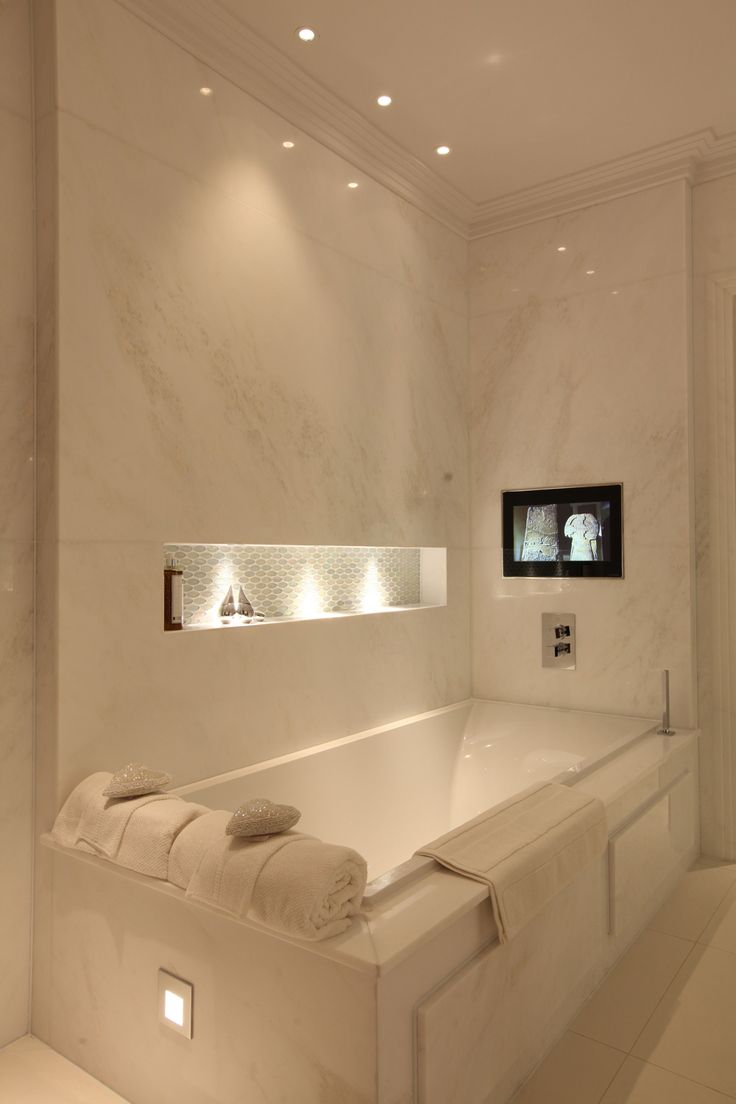 Don't use too bright lighting. Luminaires shoud be humid resistant.   If your bathroom is large you should install the light directly over the tub or shower. A simple wall light above the mirror as well as sconces mounted at a distance of 5 – 10 cm from the both side of  mirror frame will do the job well.
KIDSROOM
In nursery room use warm, spoted lighting. The best will be nursery sconces. For toddlers mount a bright, central ceiling lamp. Don't foregt about stending lamp for reading. Be careful with switches and cables. Safty is the most important thing.