I really like the idea of rope, knotted lamps. These kind of  light is a funky alternative to every day lighting and it can be an exclamation point in the room. The whole idea of rope lamp is included in the sculptural  shape that catches your attention.
Manila Lamp, Atelier 688
The Manila Rope Lights measure 12 feet long with a 1.5 inch diameter and can be hung from the ceiling, tied in clusters, or plugged into the wall. The rope lamps can be used outdoors.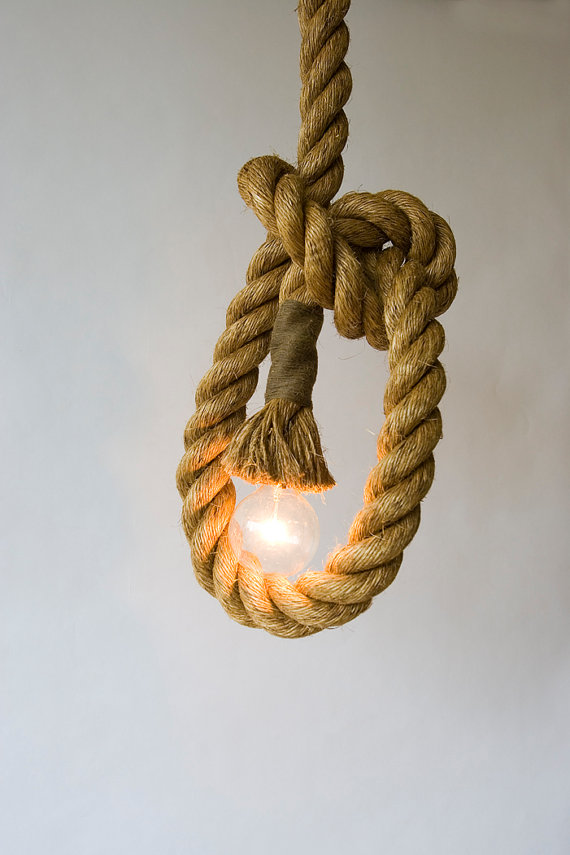 Knotted rope lamo, Pottery Barn
This knotted-rope lamp from Pottery Barn  draws your eye with its sculptural shape, even as the neutral hue and natural texture recede. 

Ropes Lamp by Christian Haas
ROPES is a new series of lamps launched this week at Colette, Paris. The idea behind the lamps was to combine LED-technology with a innovative soft look and textile appeal. Unlit, the lamps provide a graphic statement to their environment. Lit, they diffuse a gentle ambient light. Each piece is unique, numbered and varies in size and technique. ROPES are handmade in France and Germany.
The Chord Pendant Lamp
The Chord Pendant Lamp from home design retailer CB2 allows its users to take on the role of designer. The customizable illuminator features a vintage light bulb and nautical rope design that that can be displayed in a countless number of knot configurations.
The chunky cord illuminator is interactive for users and can be knotted a myriad of ways that best appeal to home owners. Whether displayed within an industrial loft space, a chic beach home or overhead a central dining room setting, the Chord Pendant Lamp from CB2 displays its 40 watt light bulb inside an artisan socket cap and canopy with a brushed nickel finish.
Matt Knotted lamp
The knitted light object Matt promises its user a high level of entertainment. It is made for being moved and played with. Through the use of an environmentally friendly energy saving bulb, there is no heat emission and Matt can be your friend all the way through long, platonic reading nights.