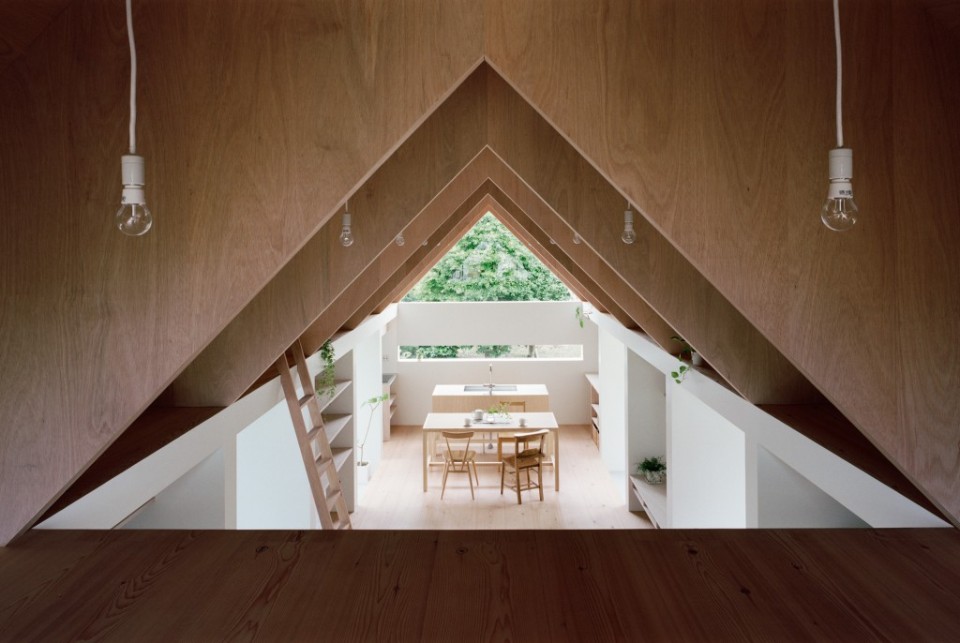 The Koya No Sumika, designed by Japanese studio mA-style Architects, is an extention for a young couple added to the west side of a family house and is connected to the main building by a glass and timber passageway.
The main house is a one of commonly seen in rural areas Japanese style house with about  200m2. It is a big house with many rooms and mainly consists of large spaces for people to gather. House owners desired to provide additional space  that ensure quiet and comfortable times. By relying on the main house for the large kitchen, bathroom, and future children's room, only a few functions for a living space are required for the extended part.
Architects designed the timber roof as a series of V-shaped frames, which sit over a rectilinear base and create triangular windows at each end. Small attic spaces are tucked between the ribs of a triangular roof.  Small pockets slotted into the sides of the living area provide storage spaces for books and plants, as well as study areas with wooden desks and chairs. A set of protruding wooden stairs and a separate ladder lead to the compact attic spaces overhead, as well as to a bed deck at the front of the building. The living spaces are aggregated into a simple continuous structure, which consists of small, 2m high, U-shaped bearing walls. A V-beam roof truss is made with 62mm panels and structural plywood on both sides, and it is topped with a 69mm thin roof.